1090
Night View Moruya, N.S.W.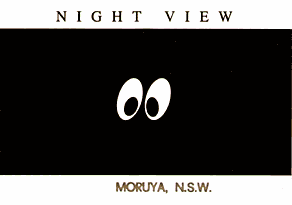 14,0 cm x 9,5 cm
© Rose Stereograph Co., AUS-Glen Waverley, Vic.; Rose Series Post Card No. 2523
(Städtenamen nachträglich eingedruckt/Townnames are printed in later)
Gleiches Aussehen / Same design:
1091 Batemans Bay, N.S.W.
Ähnliches Aussehen / Similar design:
siehe / see: Übersicht "Generische Karten mit eingedruckten Städtenamen" / Overview "Generic Cards where the town name is printed in later"
und siehe / and see: Überblick "(Menschen-)Augen" / Overview: "(Human) Eyes"