994
Local Nightlife! Orange Australia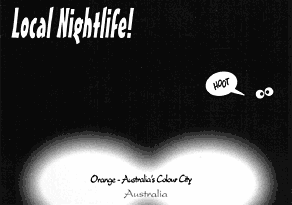 14,4 cm x 10 cm
© Murray Views, AUS-Gympie (GEN S 805) / "Australian Collection"/ ~2000er/s
Anmerkung / Remark: Der Städtename ist nachträglich eingedruckt. / The town name is printed-in later.
Gleiches Aussehen / Same design:
996: Local Nightlife! Hervey Bay Queensland Australia,
1000: Local Nightlife! Gympie Queensland Australia,
1007: Local Nightlife! Bundaberg, Queensland Australia,
1045: Local Nightlife! Gladstone Central Queensland Australia,
1046: Local Nightlife! NUTWORKS YANDINA Australia,
1057: Local Nightlife! Historic Mogo, New South Wales Australia,
1180: Local Nightlife! Loyalty Beach Campground & Fishing Lodge Cape York Australia
Ähnliches Aussehen / Similar design:
ohne Eindruck des Städtenamens / without imprint of the location name: Local Nightlife! Australia,
sieh Übersicht "Generische Karten mit eingedruckten Städtenamen" / see overview "Generic Cards where the town name is printed in later",
sieh Übersicht "Lichter" / see overview "Lights"
Weitere Karten des Verlags / Further cards from that publisher:
siehe Übersicht "Murray Views" / see overview "Murray Views"